SEO marketing is the process of optimizing a website for search engines with the goal of improving the visibility of the site and its ranking in search results. SEO marketing can be divided into two main areas: on-page SEO and off-page SEO.
On-page SEO refers to all the optimization techniques that are applied to the website itself in order to improve its ranking in search results. This includes optimizing the website's title, meta tags, header tags, images, and content.
Off-page SEO, on the other hand, refers to all the optimization techniques that are applied outside of the website to promote it and improve its ranking. This includes link building, social media marketing, and article marketing.
Both on-page SEO and off-page SEO are important for a successful SEO marketing campaign. In order to achieve the best results, it is important to use a variety of SEO techniques from both categories.
SEO marketing can be a very effective way to improve the visibility of a website and its ranking in search results. However, it is important to remember that SEO is just one part of a larger marketing strategy. In order to be successful, SEO must be used in conjunction with other marketing techniques such as social media marketing, content marketing, and pay-per-click advertising.
If you are interested in SEO marketing for your website, contact us today.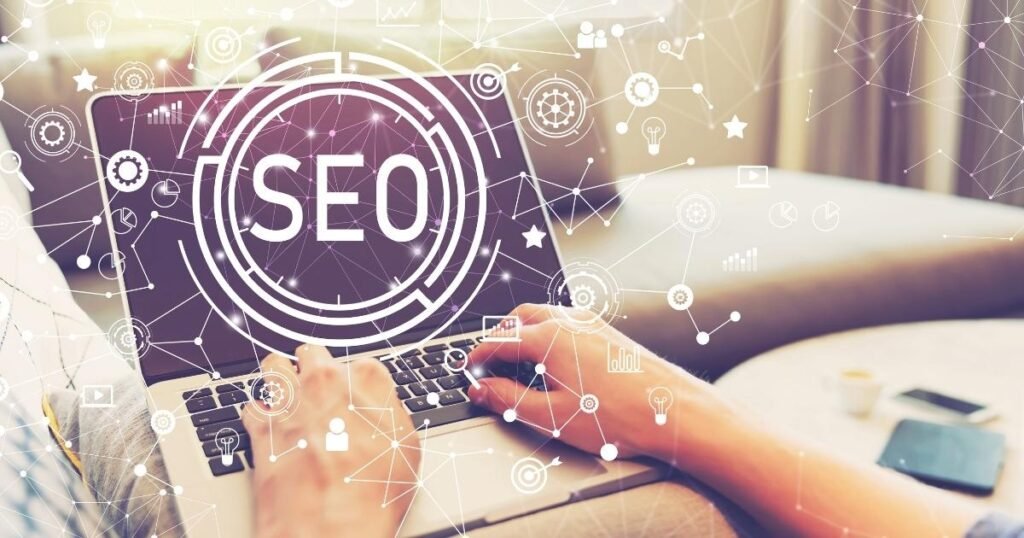 The benefits of SEO Marketing
SEO is the practice of optimizing your website's content and settings for search engine crawlers and algorithms. The goal of SEO is to put your website in front of potential customers who are searching for products, services, or information you offer.
Search engine optimization is a foundational element of inbound marketing. As search engine algorithms change, you need to adapt the way your SEO efforts are deployed.
SEO for your website's content
Search engines want readable and keyword-optimized content that provides value, answers a question or solves a problem for someone searching online. When you create content that aligns with what people are looking for and use keywords they're likely to search for, they are more likely to click through to your website or blog page.
SEO for your website's on-page elements
You can make search engines happy by making sure the elements on your website are optimized. For example, you should use the appropriate tags to ensure search engines can read and understand your content. This includes title tags, image descriptions, alt-text and meta descriptions.
Try to include keywords in a way that makes sense for the content but doesn't look like keyword stuffing or manipulative SEO tactics. Keywords like brand names, product names, and company names are usually OK to use as they are relevant to the content.
Keep your website's code clean and make sure there aren't any broken links on it.
SEO for your website's backlink profile
Backlinks, or links pointing to your website from other websites, are an important SEO factor. These links show search engines that other credible websites think your content is worthy of a link. These inbound links are the most valuable for search engines, so paying close attention to your backlink profile is helpful.
An established link profile can improve search engine rankings and help you grow a strong following on social media. Links from diverse sources — not just from one niche — are also important because they help establish your overall credibility. A high-quality link profile may be difficult to avoid as you create more quality content that helps people find you online.
SEO for your website's social media participation
Social media engagement is necessary to promote your brand, spread the word about new products or services and build a strong following of people interested in what you have to offer. You may be able to achieve some SEO benefits by participating in social networks like Facebook, Twitter and LinkedIn.
When you share links on social media, search engines see that someone finds what you're sharing valuable enough to post with their own profile. You should share content that helps people find you online, which may include links to products or services you offer and valuable information like articles and other useful resources.
SEO for your website's site security
It's important to keep your website safe on the web. For example, avoid using third-party software unless you know it's trustworthy and is actually providing the features and functionality you need.
A compromised site can have a negative effect on your SEO efforts.
Consider using SSL encryption to protect your site from hackers. It's a good idea to use a password manager like LastPass to store all of your passwords and secure keys so that you can use the same password across multiple sites and applications without being exposed. If someone gets access to your lastpass file, they can access all of your other passwords as well.
Don't forget that search engine crawlers need to be able to "see" your website. Keep your website design simple and make sure your images are optimized and don't have any missing file names. If you aren't sure, ask someone who knows SEO best practices and can advise you on the look and feel of your site.
Search engine optimization is evolving, but the basics will always apply. The changes will continue to be incremental, so it's important that you stay up-to-date on the latest SEO news.
SEO for your business's website and blog helps you rank higher and get more customers.